WordPress is web software you can use to create a beautiful website or blog. We like to say that WordPress is both free and priceless at the same time.
In the early 2000s, the Bellagio was the property of choice for serious poker players.
It's main allure for players was "Bobby's Room." Named after World Series of Poker champion Bobby Baldwin, the space is known for hosting some of the highest-limit cash games along the Strip.
Then, Aria opened.
It didn't diminish the Bellagio poker room's reputation or take away from its high-limit cash games, but "the Aria has given people a secondary option," said professional poker player Daniel Negreanu, who enjoys the room's location, food offerings and service.
While many poker rooms have shut down over the last two decades, the Aria's has grown. Almost 10 years after the company's grand opening on Dec. 16, 2009, it's still known by many professionals as the place to play.
"There's a bit of prestige and glamour" associated with the property, said David Schwartz, instructor for UNLV's department of history.
Poker's rise and fall
With the rise of televised and online poker in the late '90s and early 2000s, interest in the card game skyrocketed. The number of poker rooms in Nevada shot up, from 72 in 2004 to 109 just three years later. Visitors could find a table anywhere they wanted, be it the Strip or downtown, and get the chance to rub elbows with some of the celebrities who had made a name in the game.
"Poker is different than a lot of sports," Schwartz said. "If I walk into the Bellagio or Aria with enough money, I could get a table with a world-class poker player.
But poker rooms only made sense as a revenue driver for a short time. The Unlawful Internet Gambling Enforcement Act of 2006 made illegal online gambling much harder, which cut into the game's popularity, according to Schwartz.
"It led to fewer people playing, which led to a drop in people coming to Vegas to play poker," he said.
Meanwhile, casino operators came to realize they could make much more money filing a poker room with slot machines.
"It's tough to make money in poker because the game speed is slow," said Anthony Lucas, a professor of casino management at UNLV. "They want to maximize the return on square foot of floor space, and poker doesn't look good through that lens. … I think it was a normal business response."
In 2008, rooms across the state began to shutter. In September 2008, there were 107 poker rooms in Nevada — two fewer than the year prior. In September of this year, there were only 55.
Aria's success
Professional poker player Andrew Neeme said Aria's food and staff makes it one of his favorite places to play.
It's all about convenience, he said. The room is a short walk to both valet and self-parking, and sits right outside the casino. And if hunger strikes while Neeme's in the middle of a game, staff can hand-deliver Thai food from Lemongrass.
"(It's) the best standard food option in any Vegas poker room," he said.
The room was built under the watchful eye of Baldwin himself, who was the acting president and CEO of CityCenter — the mixed-use development that encompasses the Aria— between 2005 and 2018.Baldwin declined to comment.
Neeme said the special touches in the Aria's poker room hearken back to features that make Bobby's Room so popular. Both are close to valet, include an exclusive high-roller section and have staff who can expertly deal both popular and obscure games.
"A lot of times a poker room will be an afterthought in the design of a casino," Neeme said. "It's often viewed as more of an amenity rather than a feature of a property. You can tell that the poker room at the Aria was carefully considered, from its location and design, to its staffing, and overall concept that this is designed to be a top tier poker experience."
And those qualities have proven to work, according to Shannon McCallum, Aria's vice president of hotel operations.
"Every time I go (to the poker room), all of our tables are full and we have a waiting list of people ready to go in," she said.
Neeme said the crowds and wait list can be a downside, but the Aria offers another playing space: the PokerGO studio. The venue opened in 2018 and streams live poker and esports events. While it's located outside the main casino along the Aria breezeway, it uses the property's gaming license and hosts more than 100 annual events run by Aria's staff.
"For all intents and purposes, this is an extension of the Aria poker room," said Sam Simmons, president of PokerGO's parent company, Poker Central.
The 10,000-square-foot space has so far awarded more than $56 million to players — many of whom are professionals — since it opened in May 2018. Negreanu said he's a regular at the studio, where poker fans around the world can stream him playing live.
"I've never really seen anything like this, especially a high-end, state-of-the-art, really beautiful room," he said. "(It's) spacious, and the location's right on the Strip. You can't beat it."
While most of the taped games are streamed on the PokerGO platform, the studio has agreements to air various tournaments on NBC and ESPN.
"The players just love to play here," Simmons said. "We, alongside Aria, have really solidified this as the epicenter of high-stakes, competitive poker, certainly in Vegas if not the world. … Aria's becoming a coveted name, a coveted brand for fans and players."
Source: agen poker online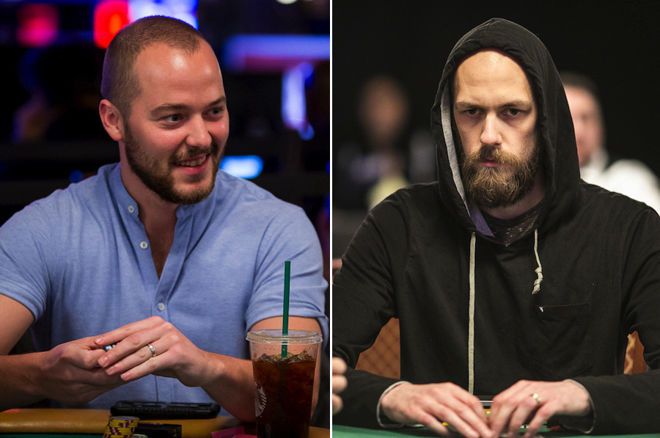 Each week, the Global Poker Index releases a list of the top tournament poker players in the world using a formula that takes into account a player's results over six half-year periods. For a look at the entire list, visit the official GPI website. Below we look at the 2019 Player of the Year race and overall GPI rankings as of November 6.2019 GPI Player of the Year Rank Player 2019 GPI POY Score 1 Sean Winter 3425.57 2 Rainer Kempe 3402.80 3 Stephen Chidwick 3385.95 4 Manig Loeser 3327.95 5 Sam Greenwood 3294.67 6 Anthony Zinno 3269.90 7 Kahle Burns 3261.65 8 Bryn Kenney 3254.17 9 Shannon Shorr 3251.53 10 Dario Sammartino 3186.18
It's a new month, which means it's time for another update of the Global Poker Index rankings. With just two months left in 2019, Sean Winter remains the player to beat in the 2019 GPI Player of the Year race, having now enjoyed frontrunner status for 13 straight weeks.
Indeed, the top three spots are all exactly as they were when we last looked in on the rankings in early October, with Rainer Kempe (No. 2) and Stephen Chidwick (No. 3) both holding steady. Like Winter, neither of those two added any GPI POY points to their totals during the last month.
Meanwhile Manig Loeser is now at No. 4, having moved up four spots in the rankings since a month ago. Four cashes at the World Series of Poker Europe in Rozvadov, Czech Republic — including a runner-up and a third-place finish — helped Loeser move up the POY rankings ahead of Sam Greenwood who slipped a spot to No. 5.
Charging fast behind those players to No. 6 is Anthony Zinno who was No. 15 just a week ago. Zinno's upward move came thanks to a strong WSOP Europe where he cashed four times and finished third in the WSOPE Main Event won by Alexandros Kolonias — good enough to land him in fourth place in the WSOP Player the Year race won by Daniel Negreanu.
Another WSOPE star was Kahle Burns who as a result is now No. 7 in the POY race. Burns earned two bracelets in Rozvadov, winning Event #8: €25,500 Platinum High Roller No-Limit Hold'em then just a few days later also taking down Event #13: €2,500 Short Deck No-Limit Hold'em.
Both Bryn Kenney (No. 8) and Shannon Shorr (No. 9) maintained spots in the Top 10 despite neither adding points in October. Rounding out the list is Dario Sammartino who added a WSOP Europe Main Event final table to his runner-up finish in the WSOP Main Event back in July.
Sammartino took fourth in the WSOPE Main Event, one of two cashes (and two final tables) he had at the WSOPE. Points from those finishes this week elevated Sammartino from No. 20 to No. 10.Overall GPI Top 10 Rank Player Overall GPI Score 1 Stephen Chidwick 3661.87 2 Alex Foxen 3492.61 3 Anthony Zinno 3356.67 4 Rainer Kempe 3324.12 5 Joseph Cheong 3290.07 6 Bryn Kenney 3285.33 7 Manig Loeser 3256.92 8 Jeremy Ausmus 3196.95 9 Michael Addamo 3188.65 10 Danny Tang 3159.98
The headline also remains the same as far as the overall GPI rankings go, as Stephen Chidwick has held onto the No. 1 spot for 13 straight weeks now.
Alex Foxen remains Chidwick's closest challenger, having been at No. 2 for 13 weeks as well since giving up the lead to Chidwick in August. Behind him now is Zinno, who catapulted to No. 3. In fact, this week marks the first time Zinno has been in the overall Top 10 since February 2017 as he endeavors to get back to the No. 1 spot he held for two weeks in July 2015.
Rainer Kempe remains high on the list at No. 4, while Joseph Cheong has made a move up to No. 5 thanks in large part to his recent third-place finish in the World Poker Tour Montreal Main Event won by Geoff Hum. Cheong's previous highest ranking has been No. 2 achieved in August 2013.
Bryn Kenney (No. 6) and Manig Loeser (No. 7) are still in the overall Top 10, followed by Jeremy Ausmus (No. 8) who returned to the list three weeks ago. Rounding out the Top 10 are Michael Addamo (No. 9) and Danny Tang (No. 10).
To view the GPI overall rankings in their entirety, visit the official GPI website. While you're at it, follow the GPI on Twitter and its Facebook page.
Everybody needs an account at one of these online poker rooms! They're the biggest, the best, and we get you the best poker bonuses. Check out our online poker section for details on all the online poker rooms around.
Source: togel online via pulsa
Varun Mahna pertama kali diperkenalkan ke poker saat ia belajar di BITS Pilani pada tahun 2005. Sebuah permainan kartu yang menampilkan beberapa variasi dan berbagai strategi, poker mengandalkan kombinasi yang dibuat dengan kartu pemain untuk menentukan pemenang.
Varun, temannya Varun Puri, dan yang lainnya akan berlubang di kamar asrama mereka untuk bermain kartu selama berjam-jam. Dia kemudian bergabung dengan XLRI Jamshedpur, tempat poker juga populer. Saat ia memainkan lebih banyak game, cinta Varun untuk game tumbuh. Ketika dia mulai bekerja untuk Star Sports, dia beralih ke poker online.
"Tidak ada yang mengalahkan permainan fisik dan hidup, menurut para puritan. Tetapi orang-orang sibuk dan lebih suka kenyamanan. Tidak mudah atau selalu memungkinkan untuk mengatur permainan fisik. Jadi, banyak orang beralih ke poker online, "jelasnya.
Varun mulai memainkan banyak game poker online. Ini adalah ketika dia melihat tren yang akan mengubah ide bisnis kecil menjadi multi-crore.
Varun Mahna, Pendiri dan CEO, Poker Dangal
"Poker online sedang tren dan permintaan meningkat dengan cepat. Namun, ada kesenjangan antara permintaan dan penawaran. Sebagai konsumen, tiga atau empat platform poker online yang ada tidak menawarkan layanan dan teknologi hebat, "katanya.
Melihat peluang untuk mengacaukan pasar poker online, Varun memutuskan untuk memulai bisnisnya sendiri – pemain kecil dan baru yang idealnya dapat memenuhi permintaan tambahan.
Pada tahun 2017, Varun bersama dengan teman sekelas teknik Varun Puri dan dua pendiri lainnya Shashwat Jain dan Karan Gandhi, memulai Xeta Networks, di mana mereka meluncurkan Poker Dangal, sebuah platform poker online. Varun mengatakan mereka menginvestasikan Rs 30 lakh dari tabungan pribadi mereka, dan mulai bekerja di rumah seorang teman.
Terdaftar di Kolkata, Poker Dangal berkantor pusat di Delhi, dengan kantor kecil di Kolkata dan Chennai.
Pengalaman bermain poker online
Platform Poker Dangal tersedia di desktop, Android, dan iOS, dan pengguna dapat memainkan tiga variasi poker: Texas Hold'em (yang paling populer di dunia), empat batas pot kartu Omaha, dan batas lima batas kartu kartu Omaha.
"Kami adalah pemain pertama yang memperkenalkan batas lima pot kartu Omaha. Saat ini, ini adalah variasi poker yang paling populer di platform, "kata Varun.
Dia mengaitkan popularitas variasi dengan kecepatan tinggi dan banyaknya probabilitas dan kemungkinan yang terbuka untuk pemain.
Source: judi deposit pulsa
DUBLIN, 2 Oktober (Reuters) – Pemilik Paddy Power Betfair dan Poker Stars telah sepakat untuk bergabung dalam kesepakatan semua saham untuk menciptakan salah satu perusahaan taruhan dan perjudian online terbesar di dunia, kata mereka pada hari Rabu.
Flutter Entertainment, sebelumnya dikenal sebagai Paddy Power Betfair, mengatakan akan bergabung dengan Nasdaq- dan Stars Group Inc (TSG) yang terdaftar di Toronto, pemilik Poker Stars.
Setelah merger, pemegang saham Flutter akan memiliki sekitar 54,64% dari perusahaan baru, dengan pemegang saham TSG memiliki sekitar 45,36% dari modal saham.
Gabungan pendapatan tahunan akan mencapai 3,8 miliar pound ($ 4,7 miliar) pada 2018, menjadikannya operator taruhan dan game online terbesar di dunia, kata perusahaan itu.
Merger ini diharapkan memberikan sinergi biaya sebelum pajak 140 juta pound per tahun, bersama dengan peluang untuk saling menjual produk ke pelanggan satu sama lain di pasar internasional dan biaya keuangan yang lebih rendah, kata mereka.
Kesepakatan itu juga diharapkan untuk meningkatkan laba bersih per saham dasar Flutter dengan setidaknya 50 persen pada tahun keuangan penuh pertama setelah penyelesaian.
Berdasarkan ketentuan merger, pemegang saham TSG akan berhak atas 0,2253 saham Flutter baru untuk setiap Saham TSG.
Flutter telah mempertajam fokusnya di Amerika Utara ketika pasar AS yang berpotensi besar terbuka dan menghadapi pajak yang lebih tinggi dan peraturan yang meningkat di pasar-pasar utama Inggris, Irlandia dan Australia.
Perusahaan yang berbasis di Dublin ini menggabungkan bisnis A.S. dengan perusahaan olahraga fantasi FanDuel tahun lalu dalam kesepakatan yang katanya menciptakan bisnis online industri terbesar di Amerika Serikat.
Pertukaran taruhan Betfair dan Paddy Power, yang menjalankan toko-toko taruhan jalan raya serta bisnis online, bergabung pada tahun 2016 di tengah kesibukan konsolidasi di sektor ini, meskipun integrasi membutuhkan waktu lebih lama daripada yang diperkirakan dan investasi produk tol untuk sementara waktu.
Source: judi slot pulsa
Lack of interest has thwarted Pennsylvania's latest casino expansion attempt.
The Pennsylvania Gaming Control Board received no bidders Wednesday in a casino license auction ordered by lawmakers as part of an aggressive gambling expansion launched in by a cash-hungry state government.
It was Pennsylvania s second failed effort to auction a sixth mini-casino license, after the first five auctions raised $ million last year. Auctions were limited to the owners of Pennsylvania s larger casinos and a th that is under construction in Philadelphia, and many of them never even bid in the auctions.
Minimum bids were set at $. million, and the state tax rate on casino revenue is among the nation s highest.
Meanwhile, exclusion zones around existing and proposed casino sites had rendered Pennsylvania s largest metropolitan areas off-limits. That left bidders with a choice of rural northern Pennsylvania and a handful of smaller cities, including Altoona, Williamsport and State College.
Joe Weinert, the executive vice president of Spectrum Gaming Group, an Atlantic City, New Jersey-based consultancy, said he s sure casino owners gave the locations a close look, and decided that revenue potential, license fees and taxes would not produce the gross operating profit return of at least percent that many are looking for.
You have to look at the constraints posed by the regulating jurisdictions, you have to look at what can be built in what area, what s the tax rate, what s the licensing fee and you have to put all those ingredients into a big pot of stew and see whether it ll turn into a palatable product, Weinert said.
Wind Creek revenues hold about steady for st months, compared to Sands days
The Bethlehem casino last fiscal year continued to lead all Pennsylvania s casinos in table game revenue.
The gambling landscape is also increasingly competitive, with , casinos of some type in states that ensure that no gambler has a very long drive to reach a slot machine or a blackjack table, Weinert said.
Existing gaming companies or would-be gaming companies are growing increasingly leery or skeptical of expansion opportunities, Weinert said.
Pennsylvania is already the nation s No. state for commercial casino revenue, behind Nevada, at $. billion last year, according to American Gaming Association figures. It is No. in tax revenue from casino gambling at nearly $. billion.
The gaming board had stopped the auctions in April last year after it received no bids in the first auction for a sixth license. But lawmakers ordered the gaming board to restart the auctions under a provision slipped into a budget-related bill signed by Gov. Tom Wolf in June.
House Gaming Oversight Committee Chairman Jim Marshall, R-Beaver, said at the time that he had not heard directly from Pennsylvania s casino owners that they had an appetite for more licenses. Rather, he had said, lawmakers wanted to see what kind of appetite was out there for a casino in untapped parts of central and northern Pennsylvania.
The budget provision said the auctions would end, once and for all, if there were no bidders for a license.
The law authorized mini-casino licenses that allow the holder to operate up to slot machines and up to table games. The first mini-casino, Hollywood Casino Morgantown operated by Penn National Gaming, is expected to open next year close to the Pennsylvania Turnpike, near the city of Reading.
The law also authorized online casino gambling and sports betting through the state s casinos.
Source: judi poker online
Rak kemenangan lain untuk mesin. Kecerdasan buatan yang disebut Pluribus telah muncul sebagai pemenang dari sesi poker-hari maraton di mana ia memainkan lima profesional manusia sekaligus.
Selain itu, tangan Texas Hold'em tanpa batas, bentuk permainan paling populer, Pluribus memenangkan $ virtual, £ ,, mengalahkan lima pemain elit yang dipilih setiap hari dari kelompok yang setuju untuk mengikuti program. Semua pro sebelumnya memenangkan lebih dari $ m bermain game.
Apa yang dianggap sebagai pemukulan bagi umat manusia merupakan tonggak sejarah bagi AI. Tidak ada program komputer yang pernah mencapai kinerja manusia super melawan beberapa pemain poker. Cikal bakal Pluribus bernama Libratus membuat namanya dua tahun lalu dengan mengalahkan pemain-pemain top manusia, tetapi program itu hanya dimainkan satu lawan satu.
"Ini pertama kalinya AI mencapai kinerja manusia super dalam permainan multi-pemain," kata Tuomas Sandholm, yang mengembangkan Pluribus dengan mahasiswa PhD-nya, Noam Brown di Carnegie Mellon University di Pittsburgh. Kemampuan untuk mengalahkan lima pemain sekaligus dalam permainan yang begitu kompleks berupa gertakan dan informasi tersembunyi membuka peluang baru bagi AI untuk mengatasi masalah dunia nyata, katanya.
Menurut Sandholm, algoritma ini memiliki potensi dalam aplikasi mulai dari perbankan investasi dan strategi negosiasi hingga penasaran dan memutuskan berapa banyak kandidat politik AS yang harus menghabiskan iklan di berbagai media di berbagai negara. Di laboratoriumnya, penelitian sedang dilakukan untuk menggunakan algoritma dalam rencana perawatan yang mengatur populasi sel-sel kekebalan tubuh yang tepat untuk melawan penyakit tertentu. Pekerjaan itu sebagian didanai oleh Kantor Penelitian Angkatan Darat AS.
Putaran Texas memegang di mana program AI Pluribus berkompetisi. Foto: Selebaran
Untuk menguasai Texas, Plemibus mengadopsi beberapa strategi mengejutkan, dan jelas-jelas bukan manusia, yang telah diadopsi oleh para profesional yang dimainkannya. Ini menggunakan ukuran taruhan yang sangat berbeda, strategi yang tampaknya sulit dilakukan manusia. Dan sementara manusia biasanya menghindari apa yang disebut "taruhan donk" – praktik mengakhiri babak pertama taruhan dengan panggilan dan membuka taruhan berikutnya dengan taruhan – Pluribus menganut taktik itu. Kebijaksanaan yang diterima dalam poker adalah bahwa taruhan donk adalah langkah lemah yang jarang masuk akal. Pluribus menemukan sebaliknya. "Aku tidak memahaminya, tetapi Pluribus memahaminya," kata Sandholm.
Dalam tantangan komputer dan manusia yang lain, program ini mengalahkan dua profesional, Darren Elias, yang memegang rekor untuk sebagian besar gelar Tur Poker Dunia, dan Chris Ferguson, yang telah memenangkan enam turnamen Seri Dunia Poker. Kekalahan datang setelah masing-masing dimainkan, tangan melawan lima salinan AI. "Pluribus adalah lawan yang sangat sulit untuk dilawan," kata Ferguson. "Sangat sulit untuk menjabarkannya dengan tangan apa pun."
Kecerdasan buatan telah melampaui manusia dalam permainan seperti catur dan Go, tetapi dalam permainan ini pemain dapat melihat posisi semua bagian; tidak ada informasi yang disembunyikan dari mereka. Dalam poker, pemain hanya memiliki informasi parsial dan sejumlah lawan yang berpotensi menggertak, menjadikannya tantangan AI yang jauh lebih sulit.
Pluribus belajar poker dengan memainkan salinannya sendiri. Mulai dari awal, dan bermain secara acak pada awalnya, program ini terus meningkatkan kinerjanya. Setelah delapan hari, ia menyusun "strategi cetak biru", yang digunakannya untuk ronde pertaruhan pertama. Untuk putaran selanjutnya, Pluribus melihat ke depan untuk mengasah strateginya. Hal ini bertujuan agar tidak salah menangkal lawan-lawannya.
Program ini berjalan pada dua prosesor Intel Haswell dan menggunakan GB sederhana saat bermain. Dalam permainan melawan dirinya sendiri, Pluribus membutuhkan waktu beberapa detik untuk bermain tangan, membuatnya dua kali lebih cepat dari seorang profesional biasa, para ilmuwan menulis dalam jurnal Science.
Sean Ruane, salah satu pemain yang mengambil Pluribus, menemukan program lawan yang tangguh. "Dalam permainan yang akan, lebih sering daripada tidak, menghadiahi Anda ketika Anda menunjukkan disiplin mental, fokus, dan konsistensi, dan tentu saja menghukum Anda ketika Anda tidak memiliki ketiganya, bersaing selama berjam-jam melawan bot AI yang jelas tidak Saya tidak perlu khawatir tentang kekurangan ini adalah tugas yang melelahkan. "
Source: agen poker online
Every month Skift will profile someone working in the quirkiest, most incredible and surprising jobs in travel and restaurants. Skift s relentless curiosity about our industries extends to every corner of the labor market. Who knew jobs like this even existed?
When famed crystal company Baccarat decided to lend its name to the hotel business in , it had to ensure that its primary product was the star of the show. And that is why one of the most important positions at the Baccarat Hotel New York is glass attendant.
First, a little history. Baccarat was established in , during the reign of King Louis XV of France. Since that time, artisans have been crafting glassware, decorative objects, and lighting fixtures purchased by many of the world's most discriminating connoisseurs. Baccarat chandeliers and decorative objects adorn many a palace, and Baccarat crystal stemware graces the tables of royalty and heads of state.
According to Hermann W. Elger, managing director at Baccarat Hotel New York and chief operating officer of Baccarat Hotels and Resorts, when there was "an opportunity to bring the -year-old brand to life in the form of the hotel, we had to make sure perfection of craftsmanship was incorporated in all aspects of the hotel. It's brought to life throughout the hotel through decorative items, lighting, and the glassware." Seventeen custom chandeliers dot the property, while items like caviar sets, candle holders, and decorative pieces are also made of crystal. And there are hundreds of pieces of stemware.
Maintaining a Temple to Glass
That's a lot of glass. Hence the need for a glass attendant, a person charged full-time with making sure that every piece of crystal, from the barware to the chandeliers, is looking good.
The hotel employs three attendants. Anthony Benitez, a -year-old first-generation New Yorker whose family hails from the Dominican Republic and Puerto Rico, has been on the job for two years. Prior to coming to the hotel, he had never worked in hospitality. Instead, for years, he had worked in moving and storage, which, he says, was perfect training for the glass attendant job. "In the moving business, it's about taking care of things, making sure they get to where they need to go in one piece."
A few years back, Benitez was poking around the internet looking for "something different, something a bit more grounded," since he was starting a family. He first applied for a position when the hotel opened, but nothing came through. However, a couple of years later, the food and beverage director called and suggested that the glass attendant role was "a position I would shine in."
When asked to describe the job, Benitez said, "It's hard to say. You could compare it to a dishwasher, you could…but you are washing God's glasses," along with immense vases, decorative pieces, and small chandeliers. Basically, he notes, "Anything that shines."
Utmost Respect and Attention
Cleaning the stemware from the bar, restaurant, and rooms is the principal part of Benitez' mission, since, he says, between , to , glasses may get washed on a typical day. "When I arrive at a.m.," he says, "the first thing I do is look for chipped glasses. I log in the glasses that are chipped and then they are sent to a special place to be resurfaced." When glasses can't be salvaged, the hotel has been known to repurpose them by creating broken art pieces sometimes displayed in the lobby.
After chips are noted, Benitez polishes silver and then gets to work on the glassware collected overnight from in-room dining and from breakfast service. Caring for the crystal requires a high-alkaline liquid detergent, and a dishwashing machine set at degrees for washing and degrees for rinsing. After that the attendant has to polish each piece by hand with a -percent cotton cloth specially made for Baccarat.
According to Elger, "The glass attendant is one of the most unique jobs there is. It requires patience and a passion for caring for something truly special. The crystal must be respected, as it is the unique identifier of the hotel. It must be cared for, washed by hand, and treated with great respect."
When Benitez got the gig, he knew that it was one "not to be taken lightly. I did extensive research to understand what I was getting into. After all, I am responsible for the thing that draws everyone here. The crystal is what this place is built on, so the training is extensive. I had to learn every name of every type of glass — there are nearly different types of stemware alone — how it's made, the colors, and all of the ins and outs." He spent two intensive days training in Baccarat's Manhattan store, learning about the art of crystal-making and the care that is required to maintain each piece. Further education was provided by the hotel's existing glass attendants.
Crystal Culture
After two years, "Crystal is part of me now," says Benitez. "I have an intimate relationship with the glass — I appreciate the glasses more." Not only that, but he feels a certain ownership of the crystal. "The biggest challenge I face here is not having full control of the crystal. I wish I could make the drink, serve the drink to the customer, eat with the person using it, and then take it back to clean."
In trying to maintain control, he does attempt "to keep everyone in line with the crystal." That's why, when a fellow employee brings him a chipped glass, he says only half-kiddingly, "They get very nervous. They know I will ask who, what, where, and why?"
That's because he has grown to fully appreciate the craftwork that graces his hands every day. "I knew nothing about Baccarat crystal before I got here," Benitez says, "and I feel like I've learned so much. I learned the history and the work that goes into it and how the crystal ties everything together…literally, the hotel is a crystal palace. There is beauty everywhere you look, and I am responsible for keeping it beautiful. I love that, and makes me feel good every day I come here."
Elger calls the job "a stepping stone to other positions." That said, Benitez is "quite comfortable" with his current role. But at some point, he says "I would love to become a Baccarat ambassador of crystal or go somewhere else when they open another hotel and teach new attendants how to care for the glass."
See full article
Photo Credit: Anthony Benitez is a glass attendant at the Baccarat Hotel in New York City. The hotel, which showcases Baccarat crystal, would not be what it is without his attention to the highest standard of excellence. Baccarat Hotel
Source: judi deposit pulsa
Taken together, casinos in the Silver State reported a total win amount of just over $. billion, an . percent increase year-over-year and a boost up from the $. million in revenue reported in May.
The increase was fueled by a healthy month on the Las Vegas Strip where casinos were up in revenue to almost $. million, a nearly . percent jump from the $. million of June .
One factor for casinos — and a big difference from May — was baccarat. As shared by CDC Gaming Reports, Michael Lawton , senior research analyst for the NGCB, said in regard to baccarat that the underlying factor was hold percentage or amount of money wagered by players kept by the casino.
As we described last month, baccarat especially hurt Nevada casinos in May. But the opposite was true in June. After the win from baccarat being down percent in May, it was way up in June, with the almost $M win representing a better than percent increase year-over-year.
According to Lawton, casinos held . percent of all wagers on the game, which is significantly higher than normal, which averaged out to percent over the last year and far above June s hold percentage of . percent.
In fact, the June hold percentage in baccarat was the highest in over years, says Lawton.
Looking elsewhere on the casino floor, slots were also up . percent year-over-year statewide after having been up less than percent in May and essentially break-even in April.
Meanwhile now that New Jersey has more than a year s worth of sports betting under its belt, comparisons between NJ and NV regarding how much wagering on sports is happening in each state have begun in earnest.
In May, New Jersey s sports betting handle actually slightly exceeded Nevada s, with $. million bet in NJ and $. million in NV.
June saw Nevada move back in front in that regard, with just under $ million being wagered an increase of about percent over a year ago versus the $. million wagered on sports in New Jersey.
In terms of revenue, Nevada sportsbooks earned close to $. million for the month, down in fact more than percent year-over-year. New Jersey sportsbooks had a win amount of about $. million in June.
North Carolina Legalizes Sports Betting in Cherokee Casinos
Speaking of sports betting, you can add North Carolina to the growing list of states where wagering on sports in some form or another is now legal.
As expected, Governor Roy Cooper last Friday signed into law a bill allowing the Eastern Band of Cherokee Indiansto open sportsbooks in their two casinos located in the westernmost part of the state.
Both the Harrah s Cherokee Casino and Harrah s Cherokee River Valley Casino expect to have sportsbooks up and running by late fall. As The News & Observer reports, bettors will be able to bet on a full range of professional and college events… in addition to off-track wagering on races at out-of-state horse tracks.
That said, don t expect us to be reporting any big numbers regarding the sports betting handle in the Tarheel State. That s because the new law only allows on-site sports betting in the two locations, with no options for mobile or online wagering being authorized.
North Carolina lawmakers have passed multiple gambling-related bills this year.
In May they passed a charity casino bill allowing charities in the state to host game nights with casino games and alcohol. One provision — charity casinos near the two Cherokee casinos are actually excluded from being allowed to offer the games.
Also in July a bill was passed by the state House to create a new nine-member North Carolina Gaming Commissionthat would assume duties currently belonging to the state s lottery commission.
Click here for the latest regarding U.S. online poker legislation
Gambling Advert Ban Arrives in UK in Time for Football Season
The gradual state-by-state expansion of sports betting, online wagering, and other types of gambling in the United States is slowly starting to be felt elsewhere in the culture — for example, a greater openness to addressing sports betting during televised broadcasts of games.
Meanwhile elsewhere in the world gambling is already a much more significant part of society, such as in the United Kingdom. However, this week those watching sporting events on UK television will notice a big change as far as sports betting advertising is concerned. That s because of a newly-instituted restriction against advertising on sports prior to p.m.
The Guardian reports how the measure — voluntarily imposed by the gambling industry — has been introduced in an apparent effort to address mounting concern about the volume of gambling adverts on television and their impact on children and vulnerable people.
No gambling ads will be shown during live sport televised before the p.m. watershed for a whistle to whistle period beginning five minutes before the start of a match and ending five minutes after.
Not coincidentally, the change comes in time for the start of football or soccer season next week.
Even so, The Guardian points out, it s not as though gambling advertising will be entirely scrubbed from the broadcasts. For example, half of the Premier League s shirts will be emblazoned with gambling companies logos during the – season.
Planet Hollywood Las Vegas at night in ," SchnitzelMannGreek, CC BY-SA ..
Everybody needs an account at one of these online poker rooms! They re the biggest, the best, and we get you the best poker bonuses . Check out our online poker section for details on all the online poker rooms around.
Source: agen poker online
Para pemimpin legislatif hari Rabu mengumumkan kesepakatan yang sudah lama dicari dengan dua kasino suku Connecticut untuk membangun situs judi ketiga di Bridgeport, tetapi Gubernur Ned Lamont tidak terlibat dalam merancang undang-undang tersebut dan mengatakan memiliki banyak kekurangan.
Selain mendukung resor kasino di Bridgeport, undang-undang yang diusulkan memperluas perjudian dengan mengizinkan Lotere Connecticut untuk menawarkan penjualan tiket lotre online dan berbasis aplikasi dan menawarkan iKeno. Suku juga akan melakukan taruhan olahraga di kasino, melalui aplikasi seluler dan perjudian internet.
Taruhan olahraga akan dikenakan pajak pada persen dan perjudian internet akan dikenakan pajak pada persen.
Senator Cathy Osten, seorang Demokrat Sprague dan pendukung kuat kasino Mohegan Sun dan Foxwoods Resort, mengatakan ia telah meminta sesi legislatif khusus untuk akhir tahun ini untuk mengambil langkah tersebut.
Seorang juru bicara untuk Demokrat mayoritas Senat mengatakan para pemimpin di DPR dan Senat sedang mempertimbangkan permintaan tersebut dan akan berkonsultasi dengan Lamont sebelum membuat keputusan.
Lamont mengatakan ia menerima rancangan undang-undang hanya minggu lalu.
"Masalah yang signifikan seperti itu membutuhkan keterlibatan substansial dari berbagai pemangku kepentingan, khususnya cabang eksekutif," katanya.
Gubernur mengatakan dia sedang mencari "resolusi global yang mengurangi kemungkinan bertahun-tahun litigasi dan menempatkan negara untuk memanfaatkan platform game yang komprehensif."
Kemungkinan gugatan melayang di atas kesepakatan apa pun antara negara dan Mohegans, yang mengoperasikan Mohegan Sun, dan Mashantucket Pequots, yang menjalankan Foxwoods. MGM Resorts, yang mengoperasikan kasino di Springfield dan Yonkers, N.Y., telah mempertimbangkan Bridgeport sebagai situs untuk kasino.
MGM tidak segera menanggapi permintaan komentar.
Kompak antara suku-suku dan Connecticut memberi suku-suku hak eksklusif untuk mesin slot dengan imbalan membayar persentase hasil negara. Pada tahun anggaran negara bagian yang berakhir Juni, jumlahnya mencapai hampir $ juta
Lamont mengatakan tindakan itu juga kurang dari apa yang dia inginkan untuk Bridgeport: "RUU yang hanya mengotorisasi vs. membutuhkan proyek yang bermakna di Bridgeport tidak cukup baik."
"Pemerintah menantikan partisipasinya dalam negasi yang sedang berlangsung dengan suku-suku," kata gubernur.
Undang-undang tersebut menyerukan agar suku-suku menghabiskan minimal $ juta di situs Bridgeport yang akan menjadi jangkar untuk pengembangan swasta di sekitar fasilitas kasino yang akan membawa total pengembangan proyek menjadi $ juta.
Konstruksi dan pembangunan di sekitarnya setidaknya akan menciptakan pekerjaan konstruksi dan mengarah pada pekerjaan permanen di pembangunan, kata anggota parlemen. Fasilitas ini diharapkan menghasilkan $ juta per tahun untuk negara.
Kesepakatan itu mengakhiri kebuntuan di antara anggota parlemen yang terbagi dalam garis partai dan geografi. Beberapa Republikan merasa gelisah dengan perjudian meluas di Connecticut dan legislator pedesaan yang mewakili kasino suku di Uncasville dan Mashantucket dan anggota parlemen kota di Bridgeport gagal menemukan titik temu.
"Proposal yang disajikan hari ini mengambil tindakan dan tidak membuat komunitas Connecticut saling bertentangan, kata Rep. Christopher Davis, R-Ellington.
Osten mengatakan undang-undang ini akan "memperdalam kemitraan kami dengan dua majikan terbesar kami dan pembayar pajak tunggal kami yang besar."
"Dengan pendapatan slot menunjukkan penurunan yang stabil dan bertahap karena meningkatnya persaingan, kami tidak mampu untuk menendang kaleng di jalan," katanya.
Ditanya tentang kemungkinan gugatan oleh MGM untuk memblokir kesepakatan, Osten mengatakan, "MGM adalah perusahaan yang sadar hukum. Mereka telah menuntut banyak orang. Itulah yang mereka lakukan di negara bagian Connecticut, untuk menghambat pertumbuhan bisnis. "
Undang-undang menempatkan semua risiko keuangan pada suku. Jika pengadilan membatalkan bagian mana pun dari hukum, RUU tersebut dibatalkan.
Osten mengatakan anggota parlemen dari delegasi yang mewakili Bridgeport, Connecticut tenggara dan East Windsor, di mana kedua suku itu merencanakan kasino untuk membendung lalu lintas ke kasino MGM Springfield, adalah pemain kunci dalam menyusun undang-undang.
"Saya percaya masalahnya adalah kami tidak kohesif dalam pengiriman pesan kami," katanya. "Sekarang kami memiliki upaya gabungan dari tiga delegasi."
Undang-undang juga meminta kontribusi persen dari kasino di Bridgeport untuk dana pemasaran pariwisata negara bagian. Itu dibangun di atas standar yang ditetapkan dalam otorisasi legislatif Tribal Winds Casino, fasilitas perjudian yang direncanakan oleh Mohegans dan Mashantuckets di East Windsor untuk mengalihkan lalu lintas menuju ke MGM Springfield.
Di bawah proposal, tambahan "dolar mitigasi" akan pergi ke Fairfield, Hartford, New Haven, Norwalk, Stratford, Trumbull dan Waterbury.
Source: judi deposit pulsa
Casino games are the ultimate pack leaders of the gambling industry raking over $ billion in revenue each year in the U.S alone. Players who are new to casino games can feel quite intimidated by the variety of exciting and flashy games available. Choosing the ideal casino game to play should not be daunting. If you want to play free spins, no deposit, our recommendation is to visit Zamsino. Canadians usually go for easy guides like Beaverslots.
We round up the most popular top tier casino games you should be playing in .
Blackjack
Blackjack is all just for some classic Vegas fun. It's one of the best casino games in for blackjack lovers. This iconic game is the ultimate casino challenge. You need a dose of strategy and careful consideration, courage, patience, and a bit of lack to become a blackjack legendino.
Enjoy a fantastic casino-style experience from the comfort of your home. With some knowledge of the blackjack strategy, you get to beat the dealer and win as much money as possible.
Try your hand in the multiple table options to ace your blackjack skills and play with high rollers. Start with the beginner's luck and grind your way up to the penthouse. You also receive bonus chips every few hours to enhance your blackjack experience.
Blackjack casino game has one of the best odds of winning because you are playing against a dealer, not another poker professional. With a house edge of .%, it is one of the casino games with a high payout. Whether you're novice or an expert, give blackjack a chance!
Roulette
Roulette is the ultimate king of casino games with evocative Vegas grandeur. It is one of the most famous iconic casino games. Roulette draws in people from across the world with its aura of sophistication. Players get to bet with small amounts of money and enjoy high turnouts. It is easy to play, making it a favorite among most casino lovers.
Piece of advice: go for European roulette instead of American roulette. If there's no European roulette option, skip roulette altogether. The house edge of American roulette is twice higher than that of European roulette and has the worst odds for a player. Roulette is a slow paced game ideal for social players.
Baccarat
Baccarat is one of the best oldest casino games. Bring your James Bond side to the table in this classic game. And even though its sexy appeal attracts most people, Baccarat is very much a game of pure chance, with no basic strategy or skill required making it the ideal go-to choice for most high rollers. Feel free to go with your instincts as you place bets on a tie, banker or player.
Enjoy a game steeped in history, and one of its most significant tradeoffs is the low house edge offering players high stakes. This leisure game provides a certain flair of elegance. It's a perfect choice if you aren't interested in gaining an edge over the casino or you're too lazy to learn a winning strategy.
Slots
Slots are one of the most popular online casino games, especially live casinos. They are simple to play and offer a huge payout potential for a small amount of deposit per spin. For online slots across most gambling platforms, you can pay as little as one cent per spin while progressive jackpots attract millions of dollars.
What makes slots such a popular online casino game is the thrill of the game. The vibrant themes, flashy lights, and stunning graphics enhance its look and feel creating an adrenaline rush.
If you are interested in a loner game and don't want to associate with other players, then slot machines are the ideal option. This game of luck appeals to the masses and is the undisputed leader of casino games.
Poker
Poker is arguably the most popular casino game. It has been glorified in almost every television show and movie. Texas Hold'em poker is the most popular poker raking in millions of dollars from the World Series of Poker WSOP alone.
Success in poker depends on skill. You can quickly learn it, but you can't easily master it. Online poker rooms are trendy, providing seamless access from anywhere, anytime. Plus the no limit tournaments makes it easy for you to earn an enormous jackpot.
Also, there are other varieties of poker you can play including video poker, Caribbean stud poker, pai gow poker think of poker plus Chinese domino game and three card poker. Poker, especially video poker is a game that rewards skill, and the odds are way much better, and it's also a transparent game.
Craps
Casino game lovers know how thrilling it feels to play craps. If you've ever gone to a casino and seen a crowd of people around a table cheering, that's craps. One player rolls the dice, and everyone else catches a breath as they predict the outcome.
Craps is a popular game owing to its best odds of winning. With a little luck on your side, you can walk away with an enormous jackpot. With a low house edge, a sense of companionship and an exciting atmosphere, craps is a must-play.
However, beginners can feel quite intimidated at first because of the fast pace, lots of people surrounding you, tons of various betting options and alien gaming and betting terms. But it's a new game ideal for social gamers, and once you know the ins and outs, the gameplay is seamless.
Keno
Keno is entirely a game of luck, and even if you are a beginner, you can win a fortune in this game. Keno is one of the most underrated casino games by most players. Some gamers think you need extreme luck to win at keno. Contrary to popular belief, you can pair your skills and a proven strategy to increase your odds of winning.
Some tips to consider when playing keno: choose casinos with better game payout. Check out how many variants your favorite casino has and what the payouts are. Practice your keno skills with free games before jumping into real money play.
Playing at a reputable casino will ensure you get to pocket your winnings. Keno rules are simple and easy to grasp, and its frill-free rules make it a thrilling game to play online, anywhere.
Bottom line
What makes a casino game popular is mostly a matter of personal preference. Every gambler has their individual needs and goals. What do you prefer, slow or fast-paced games? are you an introvert or extrovert? Do you enjoy small wins or hunt for the mega jackpots? Take into account these factors before choosing any of our mega casino games.
Source: judi poker online
All the developers of D5 Creation have come from the disadvantaged part or group of the society. All have established themselves after a long and hard struggle in their life ----- D5 Creation Team